Did you know that 40% of Orange County children start school without the pre-literacy skills they need to succeed?
The Adult Literacy League has developed an innovative and integrated approach to breaking the inter-generational cycle of low literacy and poverty. The Read to Me! Book Club provides children, between the ages of 3-5 with books and learning materials throughout the year. The goal is to build pre-literacy skills for long-term school success. We have expanded our Read to Me! Book Club by adding a Read to My Baby program that serves babies age 0-2. Read to My Baby provides age and development appropriate books and toys. We teach parents how to read to their children and engage them in daily reading and learning activities so they can be the first and most effective teacher in their children's lives.
All of our students that are parents or caretakers are eligible to take part in this program and we work with various VPK programs in Central Florida. Families outside these parameters must meet our income requirements (these typically align with an income that would qualify your child for free or reduced-cost lunch at school).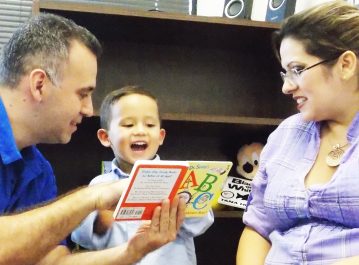 Call us at (407) 422-1540 or fill out the contact form below for more information if you are an Adult Literacy League student, or fit our income requirements, and have children ages 0-5.