HOLIDAY PHOTO SHOOT FUNDRAISER
Share some holiday spirit with others!
Do you want to participate in our Holiday Photo Shoot
Fundraiser but don't have the time?
You can still support the Adult Literacy League and give this beautiful gift to someone else! Sponsor one of our families this holiday season, OR give it as a gift to someone you LOVE!
Make this gift to them and help your community!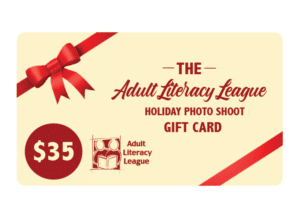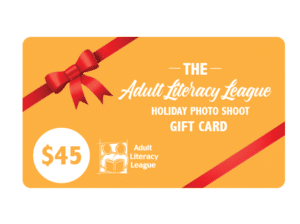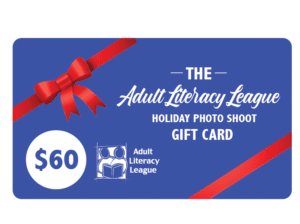 Literacy Impacts Our Entire Community
In our region, 44% of adults do not have the literacy skills they need for home, work and life. In fact, 1 in 5 (20%) struggle with very serious literacy challenges and have trouble reading even the most basic text. An additional 20% can read, but not well enough to meet the demands of today's society.
Higher Levels of Literacy = Healthier Lives
Central Floridians with low literacy skills suffer poorer health those with high levels of literacy and a person's level of literacy is one of the key determinants of their overall health. Low literacy skills can represent a risk to workplace health and safety; however many employers are not aware that there are any literacy skills issues amongst their workforce.
Change The Lives Of Future Generations
Parents play a vital role as their children's first teachers. The higher the level of a parent's education, the higher the likelihood the child will succeed in school. Only 27% of parents with below basic literacy levels report reading to their children 5 or more times a week.
Language Makes A New Country Feel Like Home
Immigrants make critical contributions to our society, culture, and economy. However, 60% of immigrants in our region also have low levels of literacy. English literacy allows them to not only survive, but thrive, in the United States.
QUESTIONS? GIVE US A CALL AT (407) 422-1540