TUTOR ORIENTATION – WHAT WE DO
We offer Adult Basic Education and English Language Literacy through free  one-to-one tutoring and/or classroom instruction provided by trained instructors.
We train volunteers to meet students' educational goals by utilizing simple, easy-to-use materials and curricula, as well as providing strategies to help students achieve their real-life personal goals.
We focus on building the literacy and technology skills needed to become better workers, citizens and parents. Students are able to use our computer lab to help improve these skills.
Our GED Lab prepares participants to take and pass the GED and earn their high school diploma.
We provide collaboration, consultation, assessment, and referral for educational services in the broader network.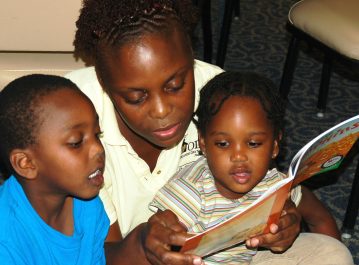 We know that building strong literacy skills in childhood have an incredible impact on the child's future educational success.
The Adult Literacy League's offers two Family Literacy Programs: Read to My Baby! and Read to Me! Book Club
Since 1998, the Adult Literacy League, Inc. has been a premier provider of family literacy services, working with parents that have children between the ages of 3 and 5. In 2016, we added Read to My Baby!, expanding the program by including parents that have children ages 0-2. We believe that literate parents raise literate children and we work to increase literacy skills beginning at the youngest age.
Our goal is to break the cycle of poverty by building effective pre-literacy skills for children ages zero to six, to increase their success in school and their ability to become independent readers by 3rd grade. Parent training—provided as part of the program—prepares the parents to become the first and most effective teacher in their children's lives.
PARTICIPATING FAMILIES WILL
Receive a new book and related literacy activities weekly.
Return a brief activity sheet to the teacher or our program manager upon completion.
Receive the next installment of book and activity at their home. This allows us to monitor each family's success and provide support when needed.
Attend parent-child workshops once during each eight-week segment for training on how to make reading a fun and integral part of their children's lives.