TUTOR ORIENTATION – HOW YOU CAN HELP
The purpose of our one-to-one tutoring program is to teach basic reading and writing and/or English Language literacy by working with a student for at least one year or until goals are met. In addition to tutoring, the Adult Literacy League has a variety of other ways you can get involved.
Provide volunteer support for administrative and program services in the office.
After acquiring tutoring experience, serve as a student intake/assessment volunteer, a tutor trainer, or a tutor support mentor.
Serve on a standing committee—either organizational or program.
Help with our annual special events—e.g. Reading between the Wines.
Serve on the Board of Directors at the invitation of the board development committee.
Our most popular way to get involved is to become a one-on-one tutor for our amazing students.
Becoming a tutor means you will have an active role in helping an adult learner permanently and dramatically change their life and the lives of their family.
Attend a one time, 3.5 hour mandatory training
Communicate with your student to decide on a public place where tutoring sessions will be held (our office, local libraries, etc)
Meet at least once a week, for one to two hours
Work with your student to identify short and long term goals
Notify the ALL office if there are problems that cannot be resolved with your student (not showing up, showing up late, not putting in the time to study)
Prepare lessons in advance of tutoring sessions
Encourage your student, be positive
Report your student's progress to the ALL office using the form provided (either online or by mail), every month
Notify the ALL office about any changes in contact information, for you or your student
Inform student in advance if unable to attend a session
Encourage your student to participate in our group classes
Attend Continuing Tutor Education workshops quarterly, if possible
(Note: A copy of the Job Description is available upon request.)
Keep in Mind: We know that your time and commitment is valuable and we have strong expectations for our students that chose to have a tutor to adhere to similar expectations.
The tutor will report to the Volunteer Coordinator and complete the online monthly tutoring report.
(Note: For those who prefer, hard copies can be requested and returned by mail.)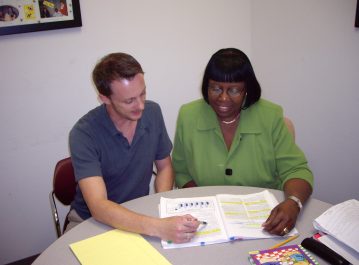 ON-GOING TUTOR TRAINING, TUTOR MATERIALS, AND TUTOR SUPPORT
We provide regular Continuing Tutor Education Sessions which are listed on this website under "Tutor Resources". These occur quarterly and cover topics of interest and importance to tutors, reflecting best practices in adult education and English language literacy.
Tutoring questions or concerns can be referred to an all-volunteer Tutor Support Committee member—and each new tutor is assigned to one of these experienced tutors.
Questions can also be referred to the Volunteer Coordinator or Program Manager.