TUTOR ORIENTATION – WHO WE ARE
ABOUT ADULT LITERACY LEAGUE
The Adult Literacy League is the largest nationally-accredited literacy organization in Florida and one of the most highly regarded in the nation.
A winner of both the Neighborhood Builder Award from Bank of America and the "Excellence in Education" award from the state literacy coalition, the League has provided the highest quality of service in the Central Florida community since 1968. During that time, we have expanded our services to meet the literacy needs of the community so that thousands of our friends and neighbors are now able to be self-sufficient workers, fully participating citizens, and more effective parents.
We empower Central Floridians to be thriving members of our community through literacy and education.
We serve by building a literate community.
HOW DO WE DEFINE LITERACY?
Literacy is an individual's ability to read, write, and communicate in English; compute and solve problems, use technology at levels of proficiency needed to function on the job and in society to achieve one's goals and develop one's knowledge and potential.
1 IN 4 CENTRAL FLORIDA RESIDENTS DOES NOT READ AT A FUNCTIONAL LITERACY LEVEL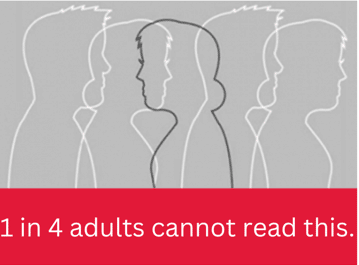 Contributing Factors:
High numbers of high school dropouts indicate low skill levels
A surplus of availability in low-wage jobs that don't require advanced skills
High numbers of immigrants creates greater need for English language literacy
Large population of incarcerated individuals or adults on probation and 65% of inmates struggling with basic literacy