OUR TUTORS ARE CHANGING LIVES.
The Adult Literacy League offers one-to-one tutoring for adult basic education and English language literacy for students aged 18 and over. In some cases where students are emancipated minors, we will serve 16 and 17 year old learners as well. All of our students are eligible to be matched with a trained volunteer tutor and we encourage students to attend both classes and tutoring sessions.
In 2017, we provided more than 44,000 hours of instruction to almost 3,000 adult students…leading to 11,000 positive outcomes!
Our tutors and volunteers are making a difference one tutoring session at a time. In fact, we find that tutors often have just as much to learn from their student as they have to teach. Due to the high demand for tutors, there is currently a long waiting list of students and it continues to grow. Please tell your family, friends and colleagues about this opportunity and encourage them to learn more about tutoring by sharing this page or contacting our Program Manager, Bronwen Jurado, at [email protected].
ALL's TUTORING SERVICE MODEL INCLUDES:
Recruitment:
ALL works with employers, health and human service providers, local media, and community partners to recruit both students and volunteer tutors for the program. We ask for one year of time from both learner and tutor and that they agree to meet for at least one session each week, one to two hours in length. Twice is better – but we know that is not always possible which is why we supplement learning with class offerings.
Orientation, Training, and Assessment:
Completing the orientation ensures that the student and tutor understand the requirements and conditions needed for success – and the commitment both must make. It is then critical to provide the best training for the tutors and the best assessment for students in order to measure progress. ALL provides outstanding, varied curricula and continuing training in its use. Bilingual staff members assist the region's growing English Language Learner population. We ask that tutors report hours and goals met by the student to us on a monthly basis.
Support & Recognition:
Equally important to student and tutor success is long-term retention. ALL recognizes service and success for both students and tutors. Support for students and tutors is always available. The staff is professional and experienced, and a team of highly committed volunteer tutors offers advice, mentoring, and support. Activities occur at convenient times, locations, and are free of charge.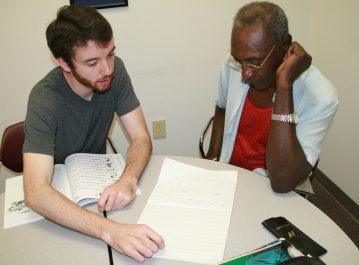 Interested In Becoming A Tutor?
As the demand for tutors in our community continues to increase, we need your help to meet this growing need.
Complete our Tutor Orientation and you'll be on your way to making a difference in someone's life through literacy.